Company respirator compliance
Stay on top of OSHA regulations at your company
Our robust suite of features makes managing and facilitating OSHA respirator compliance easy.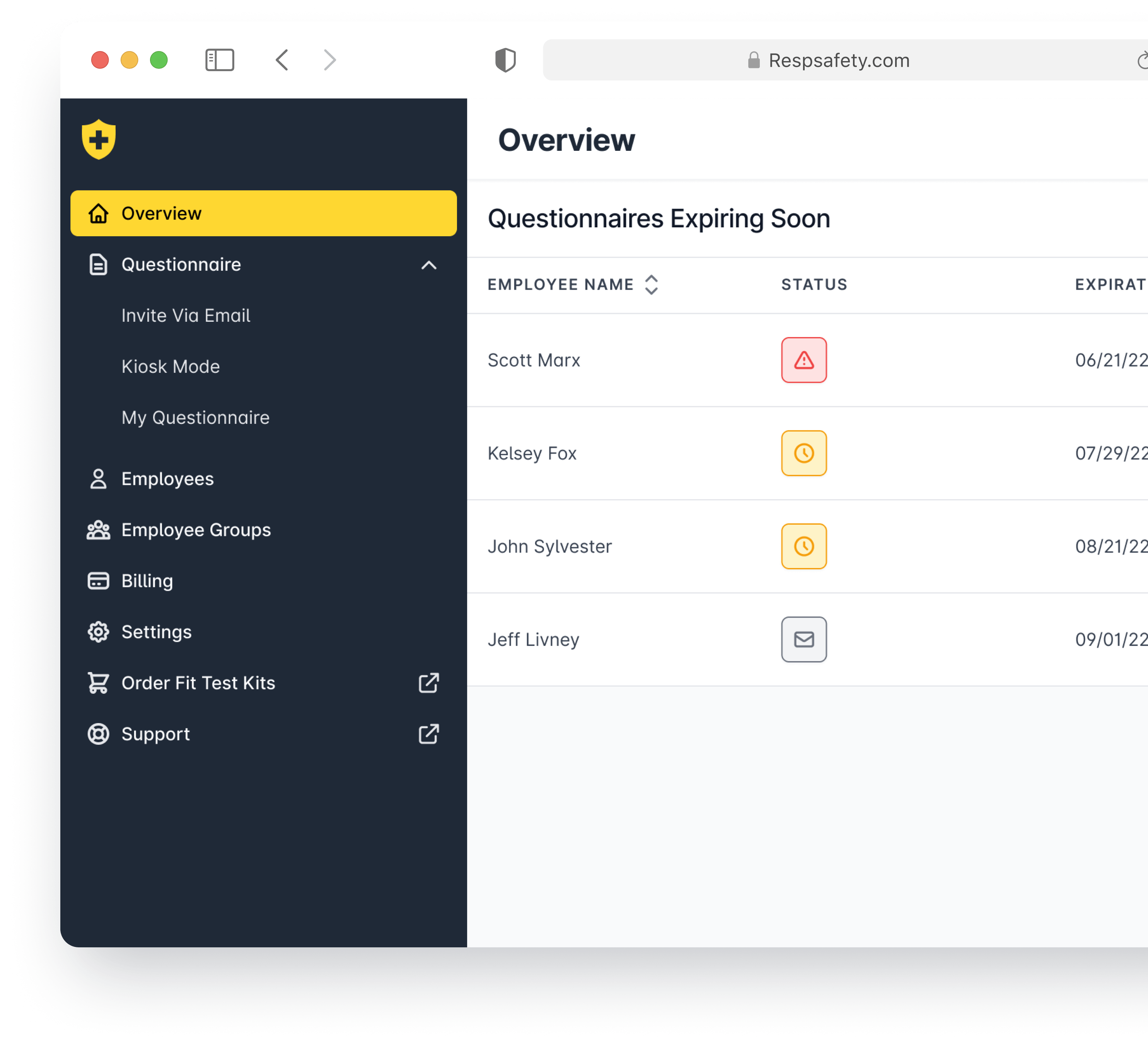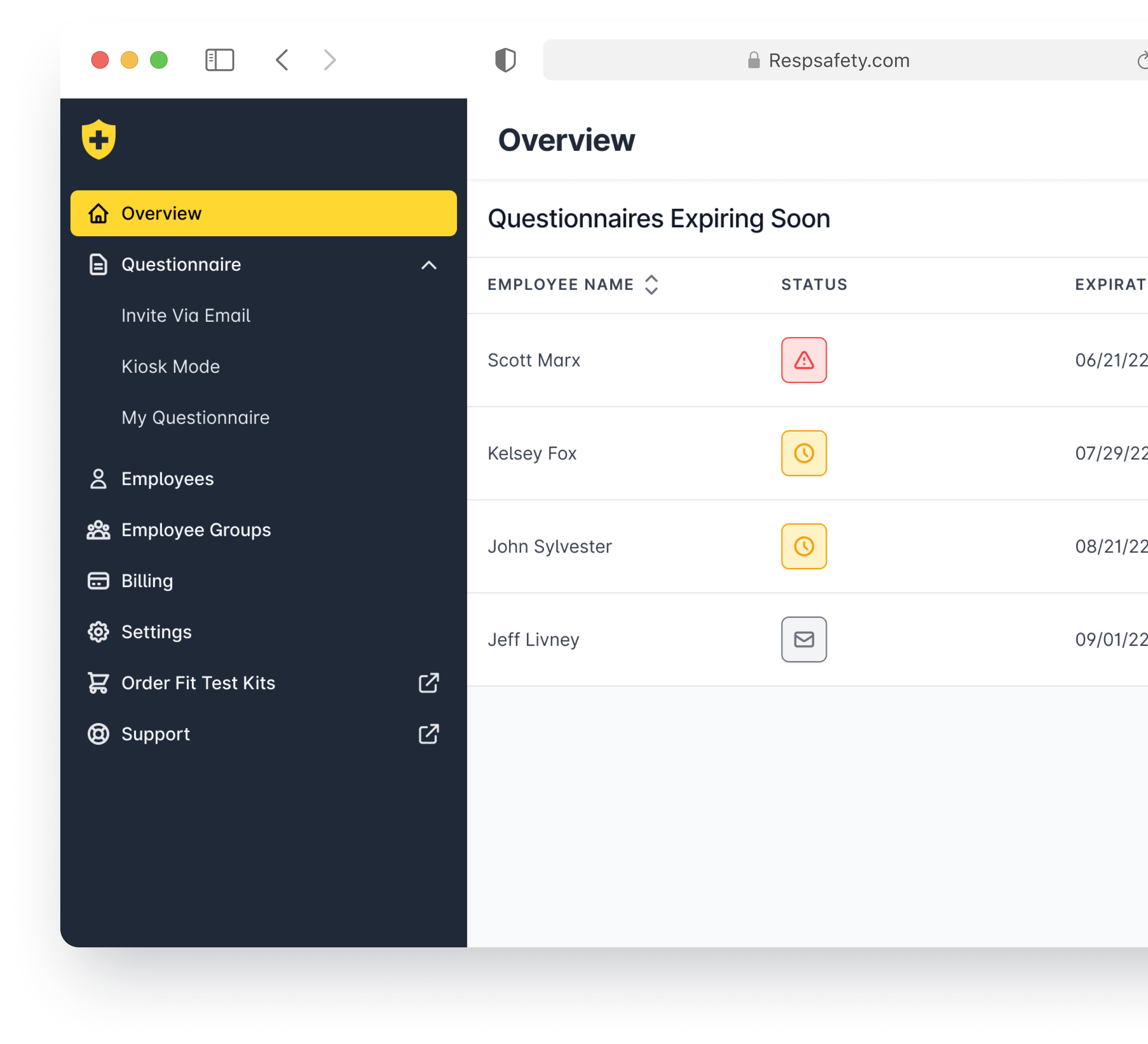 We're an OSHA-Compliant Evaluator
When you take evaluations and fit tests with us, it'll be according to official OSHA requirements and guidelines.
Flexible medical evaluation solutions
We have several intuitive ways to invite your employees, so you'll have no trouble getting evaluations complete whether on-site, in-office, on your device or theirs.
Email Invitations
We'll send your employees an email to get them started with the evaluation.
Kiosk Mode
Use your device as a kiosk which your employees can use to take the evaluation.
QR Code Scanning
We provide a unique QR code for your employees to scan and take the evaluation.
Personalized Company Code
Set up a custom URL and access code for your company's evaluations.
Renewals made easy
Your dashboard shows who's completed an evaluation – and who hasn't

Get timely notifications when employees are due for renewal

Set up auto-reminders for employees to renew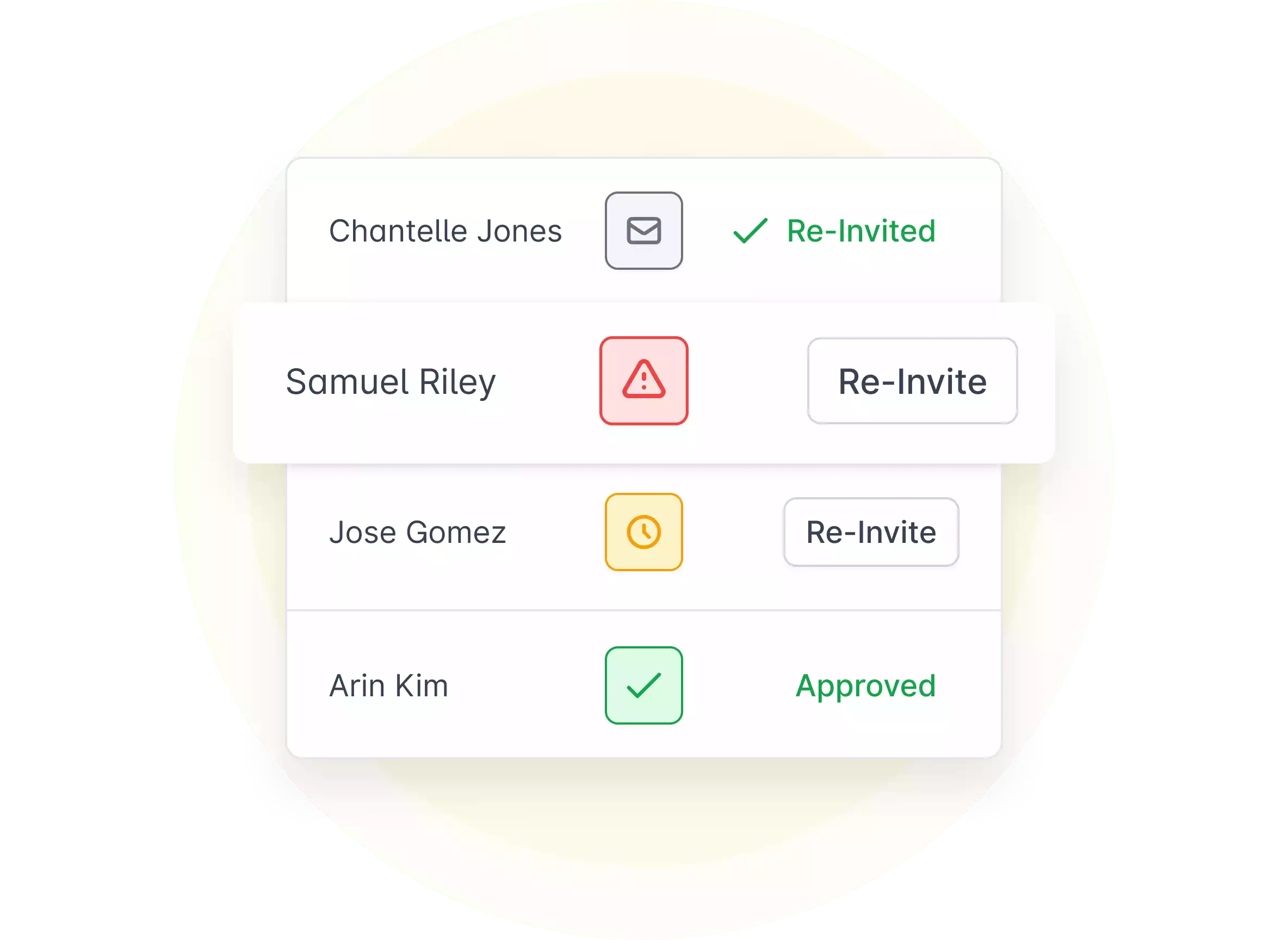 We've built a personalized dashboard so you can keep tabs on your employees and spend less time chasing renewals.
Qualitative Fit Test Kit recommendation tool
We take the complexity out of ordering fit test supplies by building a suggested order based on your answers to a few easy questions.
Your recommended order will include a combination of the following modules:
Individual Test Module
(1 per individual)
1x Bitter Fit Test Solution
1x Bitter Sensitivity Solution

1x Disposable hood

1x Alcohol wipe

1x Certification Card & 1x Fit Test Guide
Starter (Nebulizer) Test Module
(1 re-used each time you test)
1x Reusable Fit Test Nebulizer

1x Reusable Sensitivity Test Nebulizer
Take a tour of the platform
Easy Onboarding

We'll get you set up in no time with our onboarding walkthrough.

Your Overview

All the most important information at your fingertips

Questionnaire Options

Complete Questionnaires via email, company web address, QR code and Kiosk Mode

Employee Management

Manage employees by location sites or team and appoint group administrators
How we stack up against our biggest competitor*
Preselect company respirators
Delegate employee groups with multiple administrators
Support from a certified fit testing technician
Company evaluation URL & custom access code
*Competitor features and statistics based on research conducted 08/22. RespSafety has no affiliation with 3M™.
Don't just take our word for it
"I am so glad we found RespSafety. We provide COVID-19 Monoclonal Antibody Therapy in our facility to actively infected individuals. During the midst of the pandemic with supply chain challenges, I am no longer worried when we have to change N95 respirators as we are empowered to conduct on site qualitative fit testing to ensure our staff is protected."
Director of Infusion Therapy
Total Infusion, Inc.
Frequently Asked Questions
What is RespSafety and how can it benefit my business?

RespSafety is a comprehensive solution designed to simplify respiratory protection compliance, one of the most frequently cited OSHA violations. Our platform offers an array of tools, including an online respirator medical evaluation system, DIY fit testing kits, robust data management, and specialized training, all designed to save you time, reduce complexity, and ensure your business remains OSHA compliant.

How flexible is the RespSafety platform?

RespSafety provides flexibility with tools that allow you to create custom employee groups, assign multiple administrators, and utilize custom tags. Your employees can access our platform using a company code and password, through an emailed invitation, by scanning a QR code on their smartphone, or even through Kiosk mode when they do not have access to a personal device.

Is RespSafety secure and compliant with OSHA regulations?

Yes. All medical evaluations and fit test records are stored in an encrypted database. In addition, RespSafety's services are designed to be fully compliant with OSHA regulations, specifically meeting the requirements of the OSHA Respiratory Protection Standard 29 CFR 1910.134 and its appendices, ensuring your company's respiratory protection program is up to the highest standards.
How does RespSafety streamline the compliance process?

Our platform incorporates an instant online respirator medical evaluation system that requires only about 10 minutes to complete, with over 90% of evaluations receiving instant clearance. Any evaluation needing further review is typically completed within two business days. You can track all these processes in real-time through your company dashboard, and set up email notifications for updates on employee approval status.

What additional resources does RespSafety offer for respiratory safety?

RespSafety extends beyond just compliance. We provide DIY respirator fit testing kits and specialized training. These resources, backed by the expertise of OSHA-certified fit-testing technicians, ensure a comprehensive approach to respiratory safety in your workplace.

What kind of support can I expect from RespSafety?

RespSafety provides expert guidance from OSHA-certified fit-testing technicians. Plus, our responsive customer service team is always ready to assist with any questions or issues you might have. We are committed to making compliance as easy and convenient as possible for you.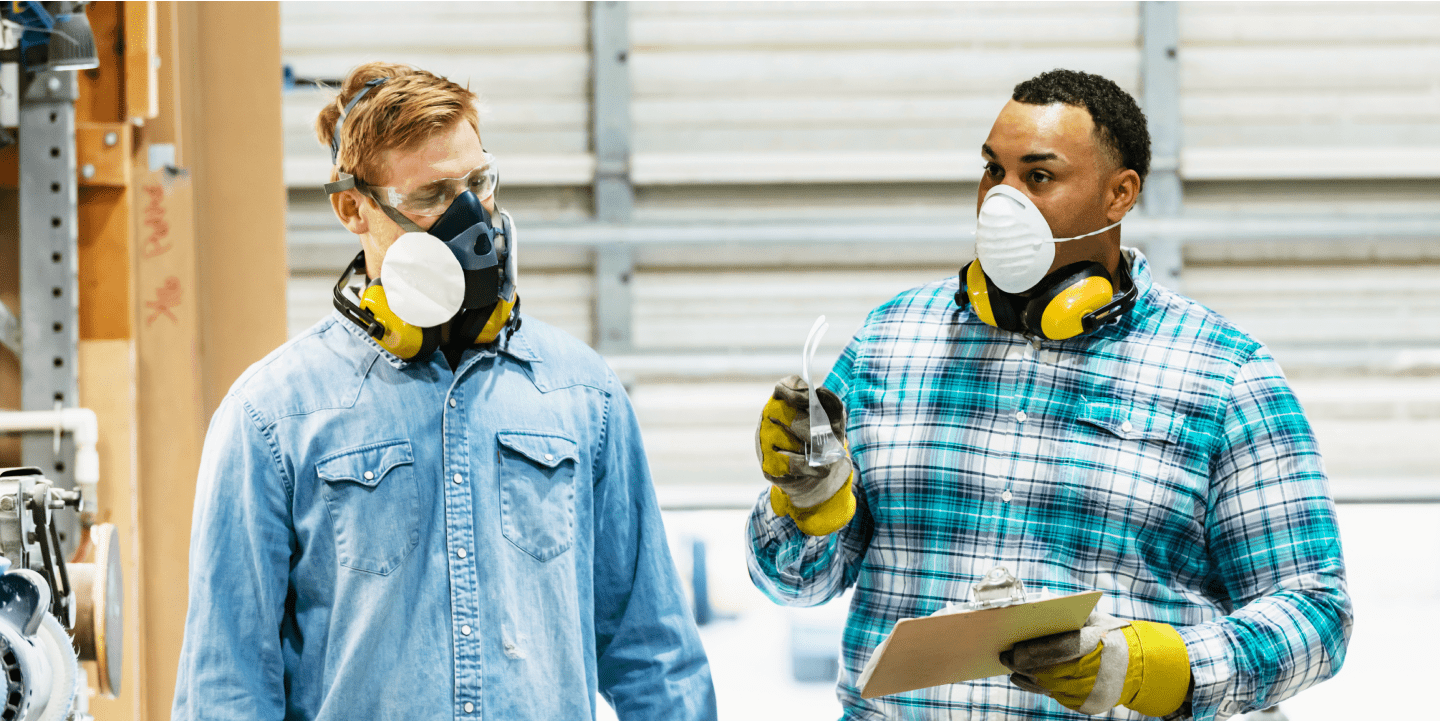 Ready to get compliant?
You can count on us to keep you in the know and on the right side of OSHA requirements.